While trying to figure out how to begin this post Jordan said this: "Jordy painted the walls. While I took a nap. And we didn't finish the rest of the room because there's too much crap over there."
So, anyway, yes, Jordan painted the majority of our living/dining room. It's looking pretty awesome. Once that is done we can get started on painting the trim while and it's going to look so crisp, I can't wait! Here's a little sneak at the color: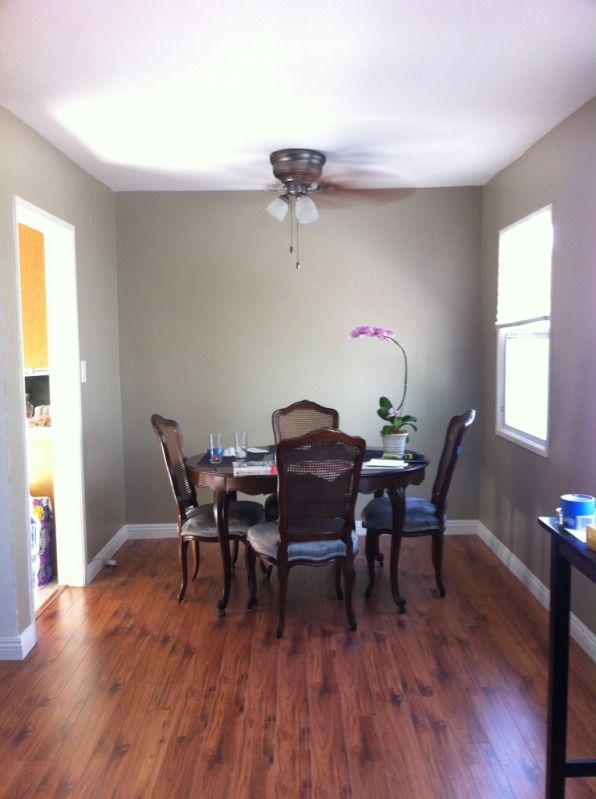 There is a set of built in shelves to the right of the fireplace that we are going to probably paint a yellow-ish color, keeping the shelves white. It should look pretty neat next to the grey color of the walls. And then eventually the front door will be yellow. Even if it's 10 years from now. YELLOW!
We've also updated our porch. We can now enjoy our street by sitting outside on our new Adirondack chairs! I've been scouring Craigslist for over a month and finally found a pretty good deal. Now, we just have to decide if we want to paint them, stain them, leave them as is, etc. Although, we should probably seal them, right? Anybody know?
I hope to be back soon with a more complete living/dining room update. Due to some RLS (real life shit), I now have more free time during the day. I'll see what I can tackle by myself... and then whine to Jordan, later on, about how much my back hurts. Ha! Goodnight!
P.S. Have you seen how awesome my plant was doing until we were gone one long weekend? Anyway, keep up with my plant saga here:
Grow
.